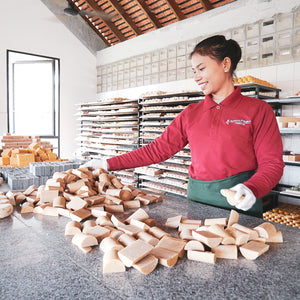 about senteurs d'angkor
Senteurs d'Angkor is a social enterprise specialized in handmade products, ranging from natural skin care collection to spices. Founded since 1999 in Siem Reap town, home to magnificent Angkor Wat temple, Senteurs d'Angkor prides itself on sourcing all of its products in Cambodia, from raw ingredients to packaging materials. Currently, it employs 160 women and men, and provides regular work to another 100 people, mostly women from rural area.Their products are loved by tourists from all over the world, trusting in their dedication and craftsmanship put into each product.
Throughout the pandemic, Senteurs d'Angkor continues to support their artisans and staff with the company emergency social fund and donation from their campaigns. Senteurs d'Angkor's commitment to quality and to empowering local economy, has made it one of the most sustainable and resilient social enterprises in Siem Reap, Cambodia.